May 28th, 2010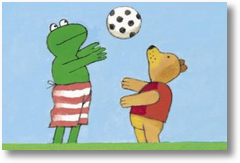 May give-away from Bookstart!
Last chance to enter the competition to receive a free picture book from Bookstart.
This month you can win a wonderful picture book from Max Velthuijs , either  Frog finds a Friend or Frog is Frog.
Great books to have and to share with your children. There is a whole series of Frog books and the illustrations are terrific, simple and appealing in the same way as the Maisy series.
The Frog titles have been translated into over 50 different languages and there stories and simplicity have the same appeal the world over.
'Frog is worried about his health: His heart is beating too fast. His friend Hare says that he must be in love – but who is he in love with?'
From Frog in Love 1989
The Bookstart website has a huge range of information and details about future events. The front page is just a delight, watch the bear and his friends come out of the sandcastle armed with books.
The  Booktrust Children's Books site has even more information about the whole range of children's books.
But try the May competition, there may just be chance over the holiday weekend and you may be lucky.
Filed under
Dolphinbooksellers, Featured authors, Featured children's book, Featured illustrators
| Tags:
anderson press
,
Arts Council
,
booktrust
,
children's book illustrations
,
Frog
,
max velthuijs
|
Comment (0)
February 5th, 2010

Hotbook was launched at the Free Word Centre, Farringdon Road, London on 2nd February 2010. It was really exciting to discover this new style of accessing texts.
The message below will be beamed from the future to secondary students in the UK via the HOTBOOK, a ground breaking and free digital resource created by if:book, the think and do tank.
'The Great Wipe hath irrayzed much of world culcha, butta few bits of licheracha haveth bn found ­ pleez help mi choose most bestest 2 exxibit' -
from the curator of a history of the book 2/2/3010
The HOTBOOK aims to ignite a passion for literature, by introducing and exploring fragments of great works.These are presented in ways that will excite the audience of young people, who also use electronic games and social networking as well as reading.
"Schools have good I.T. equipment and technical support, but English teachers need inspiring resources to help them stretch their digital imaginations and make creative use of the amazing potential of new media for literature," said Chris Meade, Director of if:book, a charitable company which also offers training to teacher
'These are a fantastically creative set of multi modal resources with which to deliver the rich experience of both language and literature at the heart of the revised curriculum at KS3′.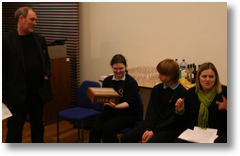 Ellie Clarke, Head of English at Queensbridge School , one of the pilot schools, in the picture with two of the pupils and the box!
The teachers guide, is available from the website at Future of the Book.
Funding and support is given from Esmee Fairburn Trust and the Arts Council, along with Booktrust.
Filed under
Book events
| Tags:
Arts Council
,
booktrust
,
Esmee Fairburn
,
Hotbook
,
quuensbridge school
|
Comment (0)