October 8th, 2010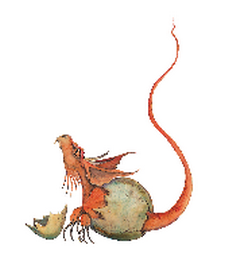 Imagine 30 children in a village school on an October afternoon, enthralled, listening and just wanting to hear the end of the tale.
For a whole hour the children in years 4, 5 and 6 at Babraham Cof E Primary School near Cambridge, sat and listened to Jackie and watched these wonderful pictures developing into a whole world of dragons, cake eating dragons, dragons made from the sun and the stars and tiny dragons with whisper thin wings.
"In their own drawings, their imaginations were sparked with fire as the dragon came to life, tails made of flowers, to dragons with spikes and claws whose tails curled round and round in spiraling circles".
By the end of the afternoon, neither the children or the teachers were in any hurry to leave, eagerly looking at the books of Jackie's we had brought.
Tell Me a Dragon(published by Frances Lincoln ) was in print from last year, the images and the story are just beautiful. The latest book from  Jackie Morris is The Ice Bear, look no further for an inspiring book as a present.
We are really looking forward to working with Jackie again. Enabling her to share with children in schools, so they can be inspired first hand is worth so much, apart from being a magical moment which both the children and staff will remember.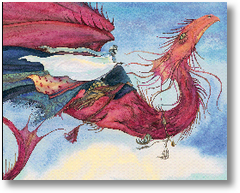 Dolphin Booksellers , part of SmithMartin Partnership LLP broadening horizons and widening imaginations. Sue Martin
Filed under
Book events, Dolphinbooksellers, Featured authors, Featured children's book, Featured illustrators, New titles
| Tags:
award winning
,
children's book illustrations
,
Dolphinbooksellers
,
Frances Lincoln
,
jackie morris
,
smithmartin partnership
|
Comments Off
May 28th, 2010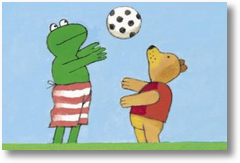 May give-away from Bookstart!
Last chance to enter the competition to receive a free picture book from Bookstart.
This month you can win a wonderful picture book from Max Velthuijs , either  Frog finds a Friend or Frog is Frog.
Great books to have and to share with your children. There is a whole series of Frog books and the illustrations are terrific, simple and appealing in the same way as the Maisy series.
The Frog titles have been translated into over 50 different languages and there stories and simplicity have the same appeal the world over.
'Frog is worried about his health: His heart is beating too fast. His friend Hare says that he must be in love – but who is he in love with?'
From Frog in Love 1989
The Bookstart website has a huge range of information and details about future events. The front page is just a delight, watch the bear and his friends come out of the sandcastle armed with books.
The  Booktrust Children's Books site has even more information about the whole range of children's books.
But try the May competition, there may just be chance over the holiday weekend and you may be lucky.
Filed under
Dolphinbooksellers, Featured authors, Featured children's book, Featured illustrators
| Tags:
anderson press
,
Arts Council
,
booktrust
,
children's book illustrations
,
Frog
,
max velthuijs
|
Comment (0)
January 6th, 2010

The Snow Leopard by Jackie Morris
Whilst listening to the radio, I heard that snow leopards are perfectly adapted to the snow and bitterly cold weather we are having in the UK. It made me stop and think, then refind my copy of The Snow Leopard by Jackie Morris, published by Frances Lincoln.
The beauty and spirituality of these animals is captured wonderfully. The story is truly magical.
"From the beginning of time the Snow Leopard has sung the stars to life, the sun to rise and the moon to wax and wane. She weaves a song to keep her hidden valley safe from the world of men and as she sings, a child down in the valley beneath, dreams her song."

The illustrations are amazingly evocative with the dreaming and sleeping child snuggled close to the leopard. The shades of cobalt blue matched boldly against the white and grey fur.
If you are looking for a book to use for creativity and imagination, go for this one over the winter spell. The writing and illustrations will give endless scope.
And just open the pages, read, gaze and dream…………
For a more scientific approach, facts about the snow leopard can be found on the BBC nature web site with further links. There are some great videos of snow leopards, these solitary cats need about 2000 acres of snow covered lands in which to roam.
Or visit Jackie's website and find out more about her work, she has a large range of prints for sale too.
Buy The Snow Leopard, by Jackie Morris before you leave?
Filed under
Dolphinbooksellers, Featured authors, Featured illustrators
| Tags:
children's book illustrations
,
dolphin booksellers
,
Frances Lincoln
,
jackie morris
,
snow leopards
,
winter stories
|
Comment (0)