October 13th, 2009

So good to have an award to celebrate diversity in children's fiction. Frances Lincoln Ltd, the award winning publisher and Seven Stories, the Centre for Children's Books announced the second Diverse Voices Children's Book Award.
Its aim is to encourage and promote diversity in children's fiction and is in memory of Frances Lincoln ( 1945 – 2001).
In the UK we have an amazing richness of cultures and people from all over the world. Children's perceptions of the world are largely based on the environment around them, the friends they meet and the books they read. Books need to be relevant to children of today.
The Diverse Voices Award is in its second year and is for new writers, whose books ensure that heroes, heroines and the range of characters reflect our modern cultures. The manuscript must celebrate cultural diversity in the widest sense, either through the story, or the origins of the author.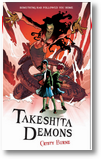 There is a prize worth £1500 and an option for Frances Lincoln to publish the novel.
Last year's winner was Christy Burne and there's lots more information on her web page.
The fiction must be unpublished, between 15,000 and 35,000 words and written for 8 – 12 year olds, by a writer aged 16 or over.
All the details are on the Frances Lincoln and Seven Stories, where you will also find the entry forms.
If you already have an idea or have even started writing, there's nothing to lose and lots to gain.
Dolphin Booksellers are delighted to be able to include this information on Dolphin Book Blog and make it available to a wide audience of Children's Centres and schools.
Filed under
Book events, Dolphinbooksellers, Featured authors, New titles
| Tags:
competition
,
diverse voices award
,
Dolphinbooksellers
,
Frances Lincoln
,
seven stories
|
Comment (0)
October 4th, 2009

Enthusiastic, creative and talented are just what is needed to become School Librarian of 2009. Some of the best ways to encourage children with reading and books– being interested and enthusiastic, finding ways to be creative with books and of course having the talent to know what is going to appeal.
The School Library Association will be holding the Award Winning Ceremony on Monday 5th October at London Zoo. Not certain why London Zoo, Anthony Browne's books come to mind?
In the Autumn edition of School Librarian magazine there's a really interesting article; Theresa Breslin, former librarian and author of Whispers in the Graveyard, amongst other books, talks with her niece, Frances, a Children's Librarian for Fife Council with an office base inside the very first Carnegie library.
There are four librarians on the Honours List, from very different schools and colleges,with lots of skills and talent for making their libraries appealing places.
The Honours List for 2009 is:
Lucy Bakewell Hill West Primary School, Birmingham
Barbara Band Emmbrook School, Wokingham
Barbara Band Sponne Community Technology College in Towcester
Joy Wassell – Timms Parrs Wood High School in Didsbury

Keep looking here at School Library Association and at Dolphin Booksellers to find out who has become School Librarian 2009.
Filed under
Book events, Dolphinbooksellers, Featured authors
| Tags:
anthony browne
,
competition
,
library
,
school libray association
|
Comment (0)
August 28th, 2009

Heroes and Heroines is the theme of the Old Possum's Children's Poetry Competition for for 2009. Time to get your imaginations fired up again after the summer break and get writing.
The Children's Bookshelf is organising the competition, they're part of the Poetry Book Society. Even if you don't want to get involved in the competition, its worth having a look at their website, it has all the details and much more beside.
The competition, now in its fourth year, is open to individuals and schools, and divided into 2 age groups,7- 8 yr olds and 9 – 11 yr olds. There are cash prizes as well as books and CPB memberships. A teacher's guide will be available from early September.
Entries will be accepted from 10 September until 19th October, so its just right for that first few days back in the classroom! On Thursday 8th October we have National Poetry day, the work cover 2 activities in 1!
Carol Ann Duffy, the new poet laureate will chair the panel, to include, John Agard, Antonia Byatt, Gillian Clarke, Janetta Otter Barry and Roger Stevens. They all have a fantastic achievements within their work and connections to children's poetry.

Support for the project also comes from Old Possum's Practical Trust. TS Elliot would undoubtedly enjoy the title of the competition, Heroes and Heroines. I'm just wondering which heroine I would choose?
Visit Dolphin Booksellers home page for information and books.
Filed under
Book events, Dolphinbooksellers, Featured authors
| Tags:
carol ann duffy
,
children's poetry bookshelf
,
competition
,
Dolphinbooksellers
,
Old Possum
,
poetry
,
TS Elliot
|
Comment (0)