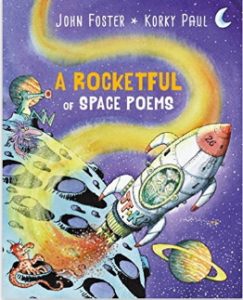 Space Poems which will take you to the moon and back again, stay at the Space Hotel, snack on a Mooncheese Toastie and play intergalactic squibble ball.
25 fantastic poems by the best of space poets in the universe, chosen by John Foster and illustrated by Korky Paul.
Ready for blast off!!!!!
This is a brilliant collection of space poems from John Foster, who is a writer of children's poetry and anthologies. The illustrations are by Korky Paul, a very famous illustrator, and  are full of fun and intricate detail with a real space feel about them. It will make a great present, book in the library or at home, to share and read alone. It will get the imaginations soaring across this universe and into the next.
Poems  include; Spaceman MacTavity by Marian Swinger, the spaceman who floated on the moon, Turn Left at the Moon by Eric Finney with a UFO who was redirected to Mars and loads more.
Fun, adventure, exploration, science, creativity and beyond....


So much to explore in this book from Francis Lincoln Children's Books. It fits in well with the recent voyage of Tim Peake in the International Space Station, which was so powerful in speaking out to young children about space and our world.
We recommend for ages 7+.
Sue Martin

Dolphinbooksellers.co.uk is part of
SmithMartin LLP
A retail resource for the best children's books, entry point into our children's and community library procurement and supply service. Offering a miscellany of news and featured authors for all our readers, whatever their age.