April 11th, 2010

A whole weekend of children's books at Bradfield College, Berkshire – a splendid setting and the warmest days so far.
A great success for the FCBG Annual Conference 2010 .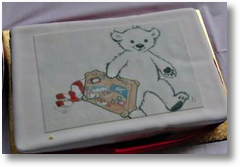 We were there for the Saturday speakers.
Hadn't realised that there would be so much cake.
Definitely a bonus!
A Gothic Imagination started the day with Sarah Singleton, author of The Poison Garden and Century . She carried us through the attics of neurosis and cellars of repression, describing gothic style as somewhat claustrophobic, with decay and a feeling of being trapped in the past.
John Burningham(author of Mr Gumpy and many many more books), gave some amazing reflections on his work and career as an illustrator and author, somehow even finding a flair for trains in Japan.
Truth Lies and Violence was a lively seminar with Graham Marks (I Spy – The Constantinople Caper) and Marcus Sedgwick (Revolver). They even managed to travel to get the real feel of the settings for their books and in Marcus' case tried out a gun to see what it would feel like.
Books at Bedtime, in the middle of the afternoon, wasn't at all soporific! Wendy Cooling , David Melling and Clara Vulliamy were inspirational in their illustrations and composition of picture books. Hugless Douglas and The Bear with Sticky Paws are two of their titles.
And even time to relax too!

Time to look at new books coming on the scene, chance to meet up with friends.
We enjoyed the opportunity to sit back and listen to the creativity of writing and illustrating.
Just wait until the children start getting stuck into those books.
Dolphin Booksellers for books and information on-line.
Filed under
Book events, Dolphinbooksellers, Featured authors, Featured children's book, Featured illustrators, New titles
| Tags:
Children's book translations
,
Dolphinbooksellers
,
school library association
,
wendy cooling
|
Comment (0)
January 29th, 2009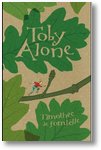 Announcement of the 2009 winner
At a ceremony at the English speaking Union on 20 January Sarah Ardizzone won the Marsh Award for Children's Literature in translation 2009, for Toby Alone by Daniel Pennac.
There was great competition from some exceptionally talented authors and translators, including Henning Mankell's book When the Snow Fell and Francesco D'Adamo's book My brother Johnny.
The Marsh Award for Children's Literature in Translation has been running since 1996, and is given biennially.
It was designed to spotlight the diversity of translated fiction for young readers and to bring a richness to children's books into the English language from places way beyond our own lives and in cultures and countries we may never have the chance to visit.
Our feelings at Dolphin are that is just great to value books and cultures in countries that we have little experience of. Stories still give everyone a chance to experience something else, to be with that character in the story, feel what its like and learn that you're not alone.
Congratulations to Sarah and to the other short listed translators.
This is the shortlist, hope you get to read at least one, I'm going to start with When the Snow Fell.
My Brother Johnny by Francesco D'Adamo translated from Italian by Sian Williams (Aurora Metro Press, 2007) Amazon link
When the Snow Fell by Henning Mankell translated from Swedish by Laurie Thompson (Andersen Press, 2007) Amazon link
Letters from Alain by Enrique Perez Diaz translated from Spanish by Simon Breden (Aurora Metro Press, 2008) Amazon link
Tina's Web by Alki Zei translated from Greek by John Thornley (Aurora Metro Press, 2007) Amazon link
Toby Alone by Timothée de Fombelle translated from French by Sarah Ardizzone illustrated by François Place (Walker Books, 2008) Amazon link
Message in a Bottle by Valérie Zenatti translated from French by Adriana Hunter (Bloomsbury Publishing, 2008) Amazon link
The Dolphinbooksellers home page is here
Filed under
Featured authors
| Tags:
Children's book translations
,
Dolphinbooksellers
,
Marsh Award 2009
,
Sarah Ardizzone
|
Comment (0)